Which Macramé Cord to Choose - The Beginners Macramé Cord Guide
Which Macramé Cord to Use:
The Beginners Macramé Cord Guide

I have created this blog post as a little guide to choose the best Bobbiny cord for your upcoming macrame project - I hope you find it handy, but remember I'm just a message away if you can help!
As an official supplier of Bobbiny Cords - all cord stocked is by Bobbiny and is 100% Recycled Cotton* as well as being OEKO TEX STANDARD 100 certified.

Lots of individual fibers make three strands which are then twisted together:
Great for beginners
Very little stretch & close structure
Perfect for creating a crimped fringe
Combines well with Single Twist
TIPS FOR USE:
Tape up the ends for ease of knotting and to avoid tangling
Not a fan of the crimp? With a little extra brushing and straightening you can achieve a straighter fringe
Combine widths to add texture or couple with single twist
The metallics are a little springier in nature - they work really well to add a little detail.
Currently Available in: 3 Ply 3mm (100m), Limited Edition Holiday Collection (30m), 50m of metallic rope (all metallic and metallic twist) and 9mm Chunky Rope.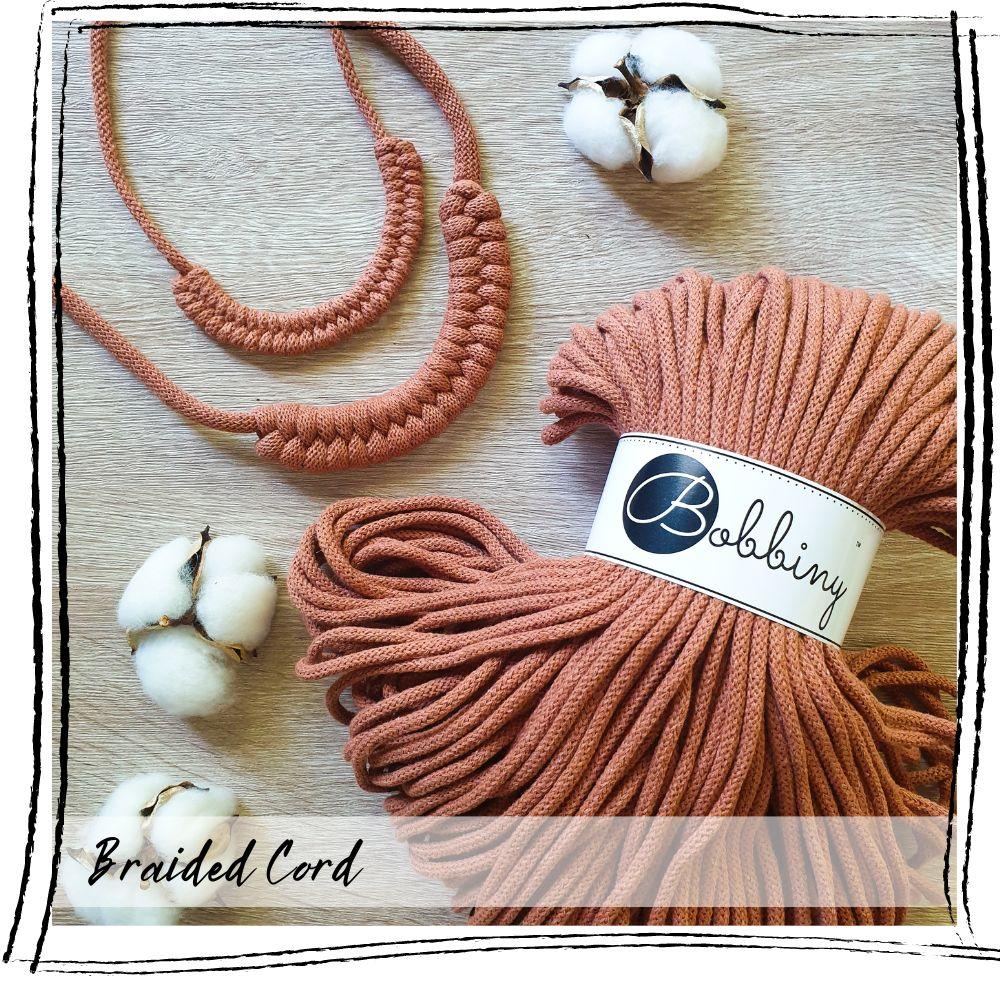 A great cord for beginners as it creates very defined knots

A very close structure makes it ideal for both Macramé and Crochet

Not suitable for brushed or unraveled fringed makes

Perfect for crocheted baskets and bags

Ideal for macramé market bags

9mm Jumbo cord is the perfect cord for creating chunky jewellery - combine with the magnetic clasps for the perfect finishing touch.
TIPS FOR USE:
If using Bobbiny braided cord - keep the belly band ON.

Don't be tempted to take it off

Sit the cord up - and gently pull from the knotted end

Remember to re-tie the knotted end after use

If you haven't tried plant hangers using braided - give it a go!

Due to it's rigid nature - for optimal impact leave lengths a little longer to create the impact desired

When using for jewellery make sure you tape the ends before you glue them into the magnetic barrel clasps. If you are struggling to fit the cord in you can always pull out the cord slightly and trim it and then pull the sheaf of the outer cord back over ( The core of 3mm and 5mm are the couple of cords in the middle - with the 9mm Jumbo cord it is white)
Currently Available in: 3mm Junior Cord, 5mm Premium Cord and shorter lengths in 5m and 10m in the 9mm Jumbo Cord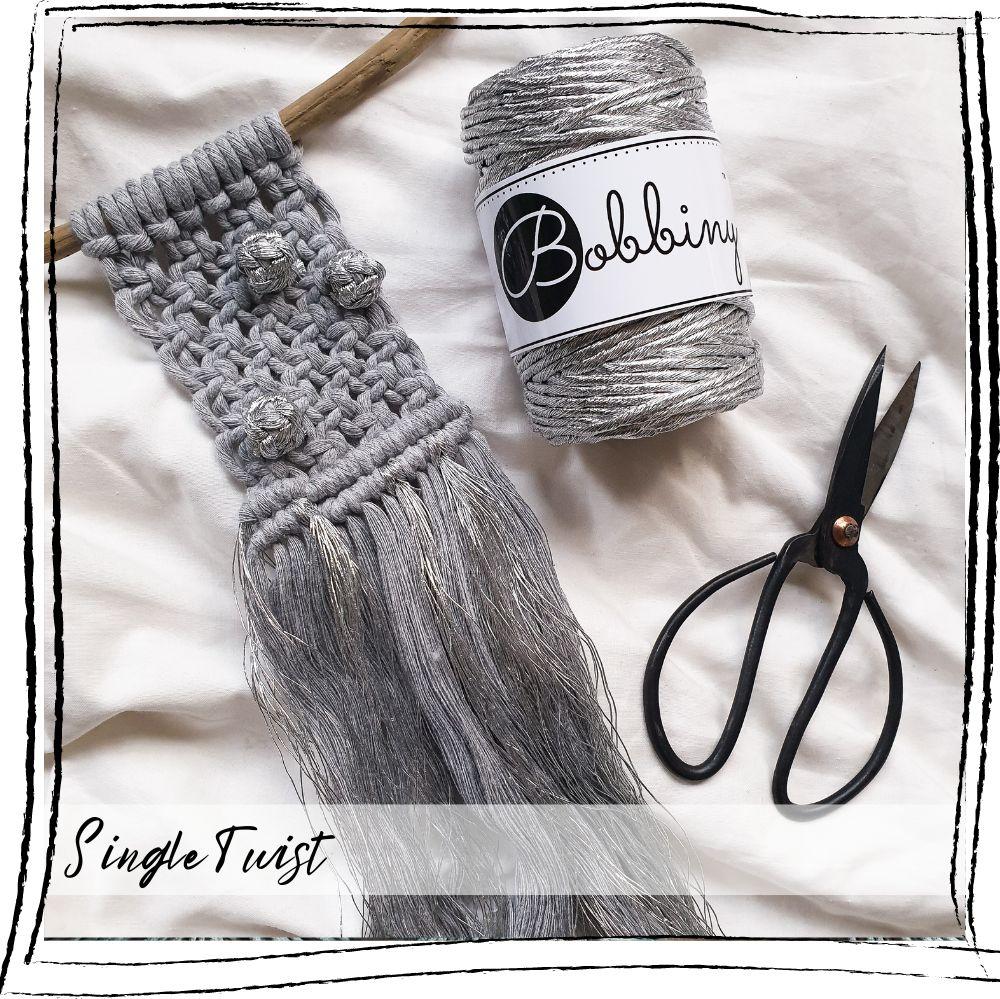 The go to cord for lots of Macramé artists

The softest cord to work with

A loose structure which makes it perfect for beautifully soft fringes
TIPS FOR USE:
Fix shorter fringes in place with a little hairspray if needed

Keep a brush or comb handy for optimal fringe maintenance

Brush out to create a fringe and then trim

Scraps? You can easily split shorter lengths into thinner cord - why not use some off cuts to make some earrings?
Currently Available in: 1.5mm Baby Single Twist Cord, 3mm Regular Single Twist Cord, 5mm XL Single Twist Cord and 9mm Chunky Cord (Both 30m and shorter lenghts in 1m, 2m and 5m).
Still not sure? Get in touch! I am only too happy to talk through the best cords for the project in mind.
*Metallic Cords will contain a fraction of Poyester or Polyamide